The child will obtain much benefit from hearing aid if it will be worn constantly
© è oleksa/Shutterstock.com
Features of children's hearing aids
Children are growing and emerging personalities. As a child grows, it's extremely important to hear the language and sounds of the surroundings, because listening is the first skill that a child learns to distinguish and repeat the sound of the sounds and words.
OPERA hearing center offers hearing aids by the level of your child's hearing impairment. During a hearing aid fitting, we'll program the device to meet your child specific needs. Hearing aids for children not only should be powerful, durable, but also safe. It is important for the child with hearing loss to start using hearing aid as early as possible, since the child's hearing and speech skills begin to form from the first months of life. They can be fitted for babies that aren't younger than four weeks old.
The child will obtain much benefit from hearing aid if it will be worn constantly. Wearing hearing aids regularly will help child adjust to them. Children who do not wear their hearing aids all the time will have more trouble. Your child's audiologist will show you how to use a hearing aid. However, parents should be aware that the child with hearing impairment needs to be taught to listen and speak, especially in the early stages. Specialists - audiologists, speech therapists, surdo pedagogues will advise how to do this. Parents, teachers, audiologists and other professionals should work together with the child, to teach them to understand their hearing loss and to advocate for their listening needs.

Types of hearing aids for children
Behind-the-ear (BTE) hearing aids for children
Behind-the-ear hearing aids is suitable to wear for children regardless of the amount of hearing loss from mild to profound hearing lost. Sound travels from the hearing aid through the earmold and into the ear. The earmold improves acoustic and thus avoids whistling in the ear. Wearing the hearing aids will not hurt your child, although it could be inconvenient to wear at first time. Wearing hearing aids for the first time is also a psychological process. Be patient! You and your child might need a period of adjustment to the hearing aids.
BTE styles are available in different colors, playful and stylish, according to individual needs.
Bone conduction hearing aids for children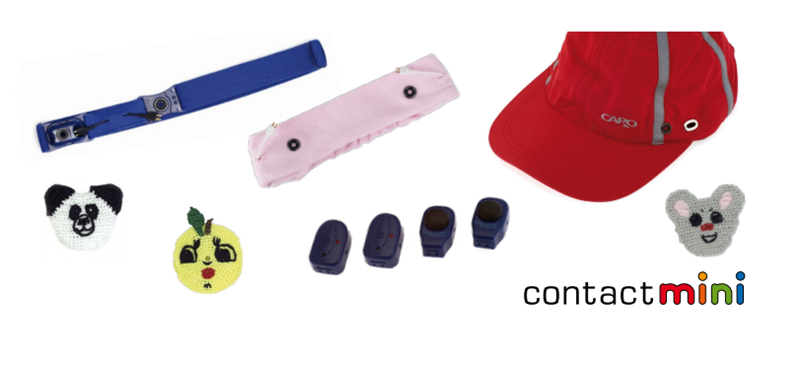 Bone conduction hearing aids for children "Contact Mini" was developed by BHM company (Austria) specially for children with mild to profound hearing loss. "Contact Mini" is great solution for children with hearing loss that requires surgery, but due to age or other circumstances, it is not possible. It is an excellent, none-surgery solution. These hearing aids can be worn just like a headband, hat or hairpin. Mechanical vibrations used in hearing devices stimulates the auditory nerves in the inner ear, that transmits information to the brain.